Title: MARGINALITÉS / MARGINALITIES
(How We Live Together) 2020-21
Excerpt from How To Live Together - Novelistic Simulations of Some Everyday Spaces by French philosopher Roland Barthes.
Session of March 23, 1977. Pages 90-93.

11.27 min
HD Single Channel Video
Stereo
16:9
Audio Management JG Thirlwell
MARGINALITÉS / MARGINALITIES is the third of four short films created during the pandemic of 2020-21 in collaboration with acclaimed actor Bill Sage and JG Thirlwell on audio management. Each chapter is a performative reading - a cinematic internal monologue extracted from French philosopher Roland Barthes 1977 university lecture series How To Live Together, on societal conditions for tolerance through ideorrythmic living formats as an analytical overview of a tranformational era of entropy, chaos and regeneration. Bill Sage's embodiment of Barthes philosophical lectures in his monolgoue reading and his self filmed perforamnces during the pandemic, creates an activation and a real time response to the human experience of living through the overarching societal and existential crisis and as a way of processing this transformation.
In contemplation of ethics and citizenry, states of isolation, disenfranchisement and marginalization of the individual, and the societal erosion taking place globally in the contemporary world, the film unfolds and journeys through the critical eye and visual poetry of the internal voice of Barthes language.
By drawing lines through the history of religious monastic systems, spiritual and anthropological forensics, and the agency of the human experience, Sage's performance reveals the history and conditions of power and oppression in relation to the human autonomous space.
The series of films are each around 10-12 minutes long and present vignettes of stream of consciousness imagery inspired by Barthes text material Sage embarks on reinterpeting, with contemplative scenes on societal transformation, archival footager and documentary street footage, as witnesses to life during the pandemic in New York, one of the hardest hit cities in the world in the spring of 2020.
The first film, Utopie / Utopia was part of Senstad's solo exhibition How We Live Together at Yi Gallery in New York, July - Sept 2020 and the group exhibiton Art's New Natures - Digital Dynamics in Nordic Art on Streamingmuseum.org fall Aug - Nov 2020. Short film no. 2, MÔNOSIS / MONOSIS was screened online as part of Streaming Museum's summer group exhibition 2021.
Webpage for the HOW WE LIVE TOGETHER Film series here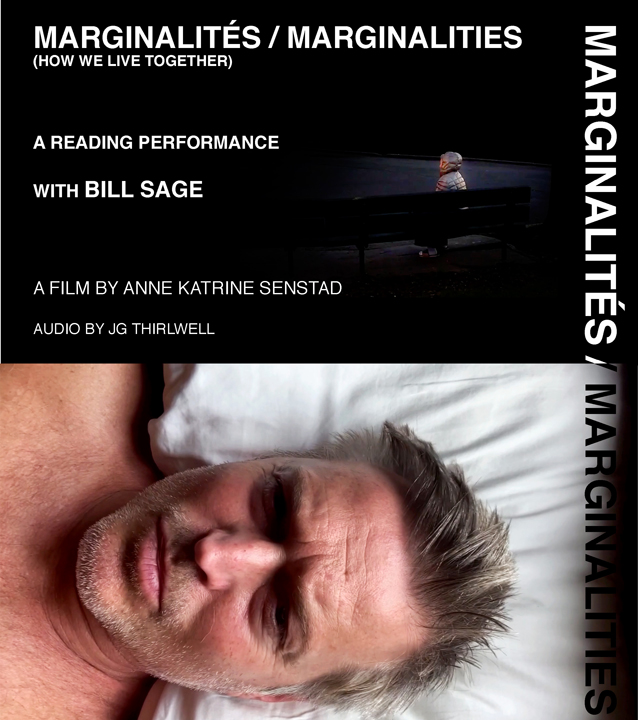 Supported by Norske Billedkunstnere, Norway
Bill Sage has appeared in over 120 films. TV and stage productions. Films include American Psycho, Boiler Room, I Shot Andy Warhol, The Insider, Boardwalk Empire and numerous Hal Hartlet films who is a long time collaborator of Sage.
©annekatrinesenstad 2020