site specific projects/anne katrine senstad/go to main site specific projects go to Main Light House page go to main menu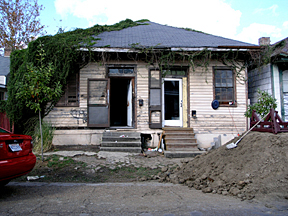 KK Projects, N Villerie St, St Roch, New Orleans
The Light House - An installation by Anne Katrine Senstad
Curated by Koan Jeff Baysa, Dec 9 2007 – March 2008. The installation was part of a group of derelict cottage installations run by the non for profit foundation KK Projects, and included installations by artists Tony Oursler, Mel Chin and Dawn Dedeaux.
Senstad's installation was supported by Office for Contemporary Art Norway
About The Light House installation, 2007/08

The interior light landscape consists of numerous industrial office lights placed within the structure of a Hurricane Katrina damaged derelict cottage in the St Roch neighborhood of New Orleans. Enteringinto an orderly room, the office lights are arranged in sequence. They display no emotion, just their ownexistence as sculptural form. As the viewer passes the spatial state of calm, we enter the display of disorder, and random placement in the space. The formality and starkness of the office lights revealing remains of personal belongings, still intact in the spot they were left, displaying emotional intensity in the evidence. The notion of time ceasing to exist is enlightened in the abandoned house as the manifestation of the effects of hurricane Katrina is revealed. Lifeless stuffed toys, decaying wall structures, muddy utensils and disorder are all evidence of entropy under light. As the environmental light changes from light to dark, day to night, the interior lights createa "living" house. The overexposed interior, when viewed from the outside, brings light back into the abandoned house, it becomes a living shrine. As we step into the house, we experience a space of pure light, an industrial form of a sublime sacred space.
©2015 - anne katrine senstad - all rights reserved
all art/photography on this site is copyrighted material.